I have officially left British soil for the next five months – though I've headed not to Korea but Japan. I'm grateful to say, my family has joined me on this first journey, primarily for an amazing holiday but also to soften my transition to life alone at university.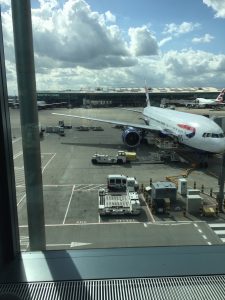 We left home in the morning of July 31st, travelling first to Heathrow then efficiently boarding our flight at the scheduled time. The aeroplane then handily teleported to Narita and we could disembark…. Or, to be a tad more realistic – our flight was delayed by several hours, which only added to the slightly traumatic experience of an eleven hour journey. I didn't really mind though as for once the sun was shining and I could watch other planes' comings and goings.
The plane itself was large and exciting; discovering the uses of the many different buttons provided entertainment for the first half hour (while we still sat on concrete!). Overall the flight passed pretty painlessly – all the Japanese people surrounding us were very polite and even the food wasn't too awful.
When we arrived in Japan, the first noticeable thing was the incredible heat and humidity – though this was only a tiny taste of what was to come.
So, I guess this is my first proper post! I hope it is the first of many, both to give everyone reading back home a taste of my experiences, and also as an outlet for my thoughts on everything to come.  —   Ada Valentina